It is that time of the year again.. the time that I get to be a year older :P I chose the place for my bday lunch last year, and this year, my guy surprised me with a reservation at Pollen. It is the latest addition to our island's fine dining fare. We were quite excited about our lunch ..but somehow fine dining can be quite intimidating for us at times..
It is not my first visit to the gardens, but it's Alex's first. Parking wasn't a problem. It is also fairly easy getting to Pollen as there is a free buggy service at the garden's Visitor area.It would be unthinkable to walk in to the Flower dome under the hot midday sun! Imagine arriving at the restaurant all dreaded in perspiration!
Here we go in the buggy...
Decor at Pollen is kept simple and clean..
nothing over the top or too fanciful.
There is no need to since the surrounding is so awesome!
I would love to go back at night! Would be so romantic with all
the lights around us :D
We were shown to our table by the lady host .. right at the end..
which is nice as we can almost see the entire place
Service was prompt. We were handed the menu and had an order of
stilled water and also served the bread in less than 5 mins.
Having read of their slow service, I guess the standard has improved since their opening :)
Some butter to go with our bread..
Olives and * sharks * I have no idea what
the paste was..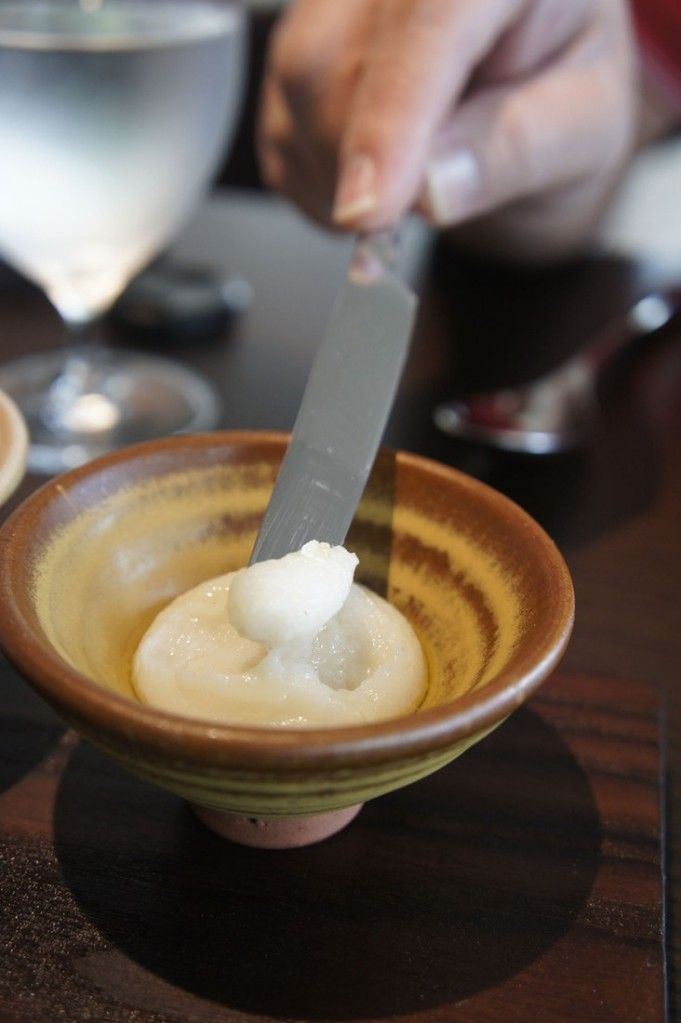 Us!
The table next to ours was also a couple ,
apparently celebrating the girl's birthday ~ :)
This birthday girl happens to be a food blogger!
What are the odds?
You can read more about her experience at Pollen
here
:)
Here's what we ate on my birthday~
First up..his set lunch
slow cooked eggs with patata bravas
( potato cubes with spicy tomato sauce)
Egg was perfect! He saved the yolk till the last bite!
pork belly
* gravy is satly-ish*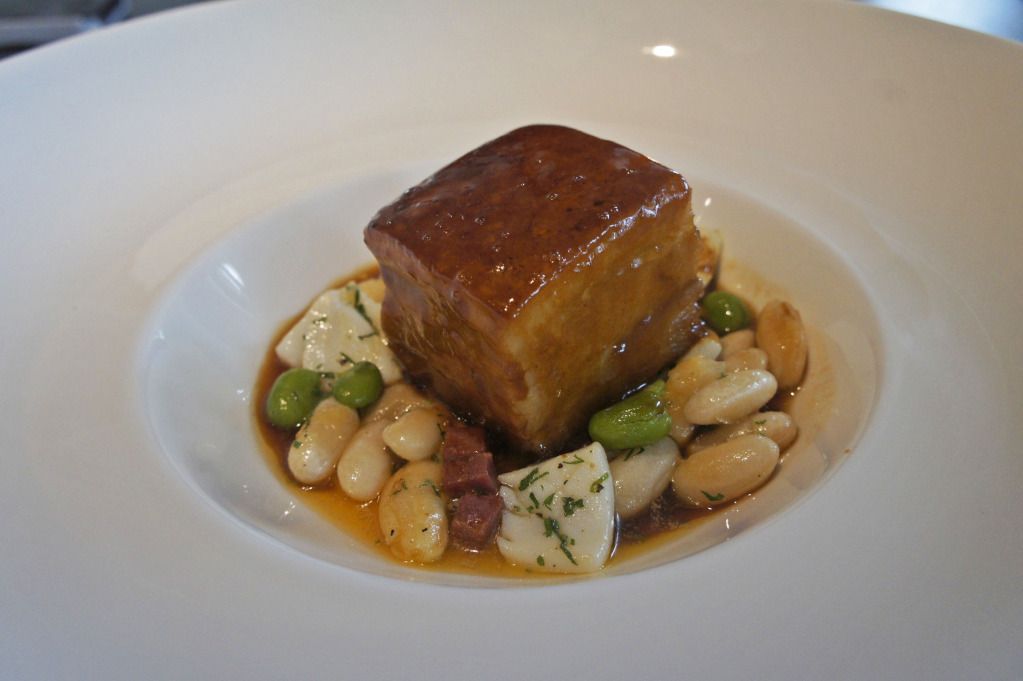 tasted the softest squid ever!
melts in your mouth..
Dessert time ..
lovely presentation..
Goat cheese ice cream on the top
berries in the middle..
to finish it all..meringue sticks
Do not get this if you do not enjoy the strong flavor of goat's cheese..
but if you are up for some challenge ..then go ahead.. :)
look..there's some pollen for you..
Here's my set.
Petunia ocean trout
The plating is pretty!
My main was yet another fish dish..
John dory staying afloat on some veg and
grains made of flour?
The consomme is delicious!
but again..tad salty
now now..don't blink..for you will see dessert served in the
most unusual way!
My beetroot sorbet is served on a rock!
The wait staff told us that some diners thought it was a
coconut..and tried to knock on it with a spoon!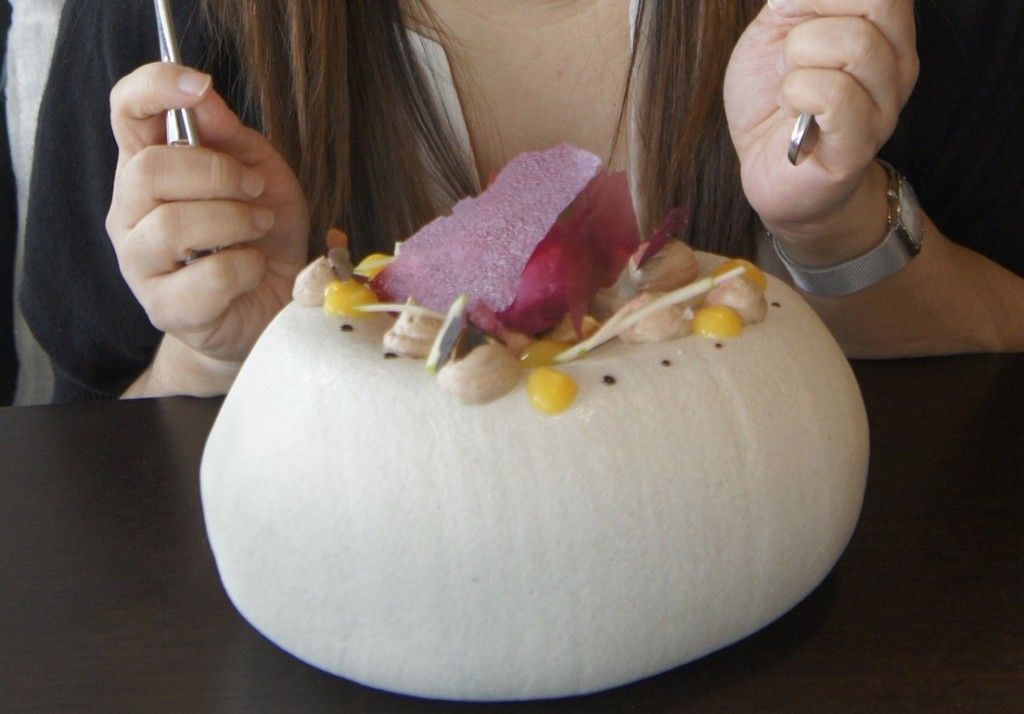 beetroot sorbet with choco mouuse at the side..
coupled with sliced cucumber.. dark dots are pure dark coco.
you can say that this dessert is like life..has all sorts flavors in it..
Ohh look! a flower..
yes..i ate it up..
The aftermath..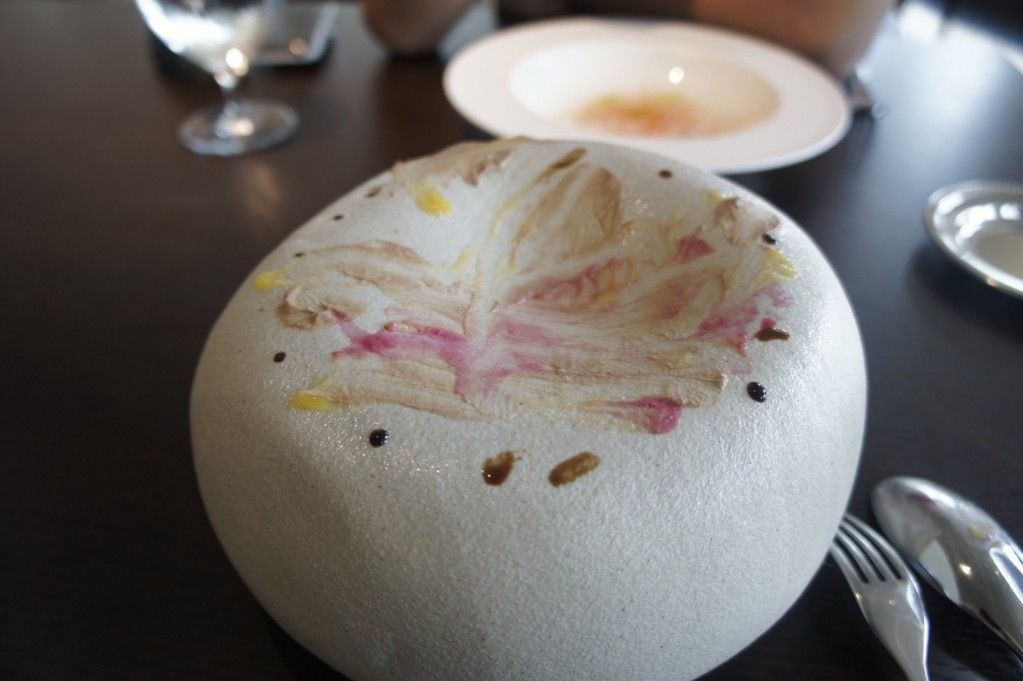 snapped the rose on our table with my
iphone macro lens..
it was an enjoyable meal..
and that concluded my birthday lunch!
Looking forward to my next fine dining experience..