Saturday Evening
Venue-Suntec , Marina Sq
I was at the Bodyshop sales at Suntec. Yeah, pretty crowded over the weekend as compared to the first day of the sales ( I went alone since was kinda free in the morning ). Jandy hasn't been to the sale so kinda accompanied her there. Oh yes, bumped into Randy who was doing his 2nd round of bodyshop sale just like me hahah..So, here are my
gratifications
haul from the sales..actually there were 4 other items not in the picture..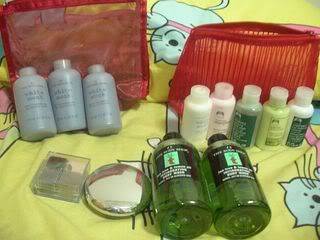 *note randy and jandy.. *giggles* just a letter difference .. of coz..gender different as well *
did I just had a bimbo moment? *faint*
Anyway, I finally wore the pair of tights I purchased from Zara. Was quite apprehensive about wearing it..snapped myself in the fitting room :} Do you know that the black top is actually a dress? Yes, I bought it many yrs ago.